06
sightseeing information
Located between the world heritage property, Nishi Hongan-ji Temple, and Higashi Hongan-ji Temple, hotel tou nishinotoin kyoto is within walking distance of world heritage sites and Japanese important cultural property, and long-established traditional crafts products stores and many laid-back restaurants that offer a taste of Kyoto's culinary culture.
As well as experiencing Kyoto culture firsthand, mixing with the locals will make your stay an even more fulfilling one.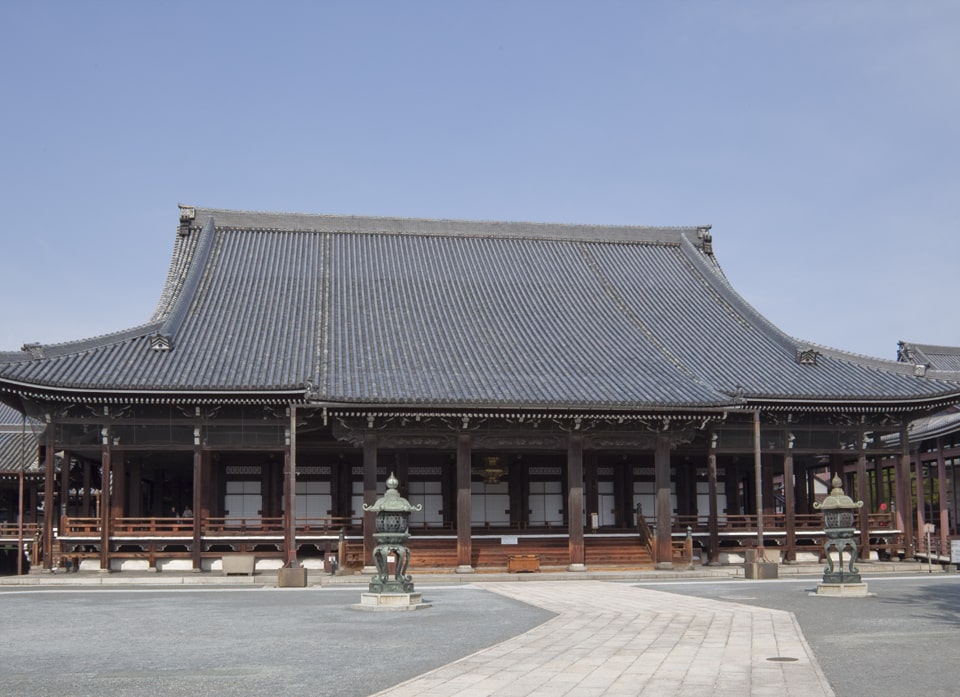 Nishi Hongan-ji (UNESCO World Heritage)
Nishi Hongan-ji is inscribed as a world heritage property.
You will undoubtedly be overwhelmed by the majesty of the main hall, the Amida-do Hall (temple hall with an enshrined image of Amitabha), and the Goei-do Hall.
Anyone can go along and see the jinjo (morning service), which entails reading a sutra from 6 a.m. and expressing gratitude to Buddha.
5-minute walk from the hotel
Honganji Monzen-machi, Hanayacho-sagaru, Horikawa-dori, Shimogyo-ku, Kyoto
075-371-5181
Website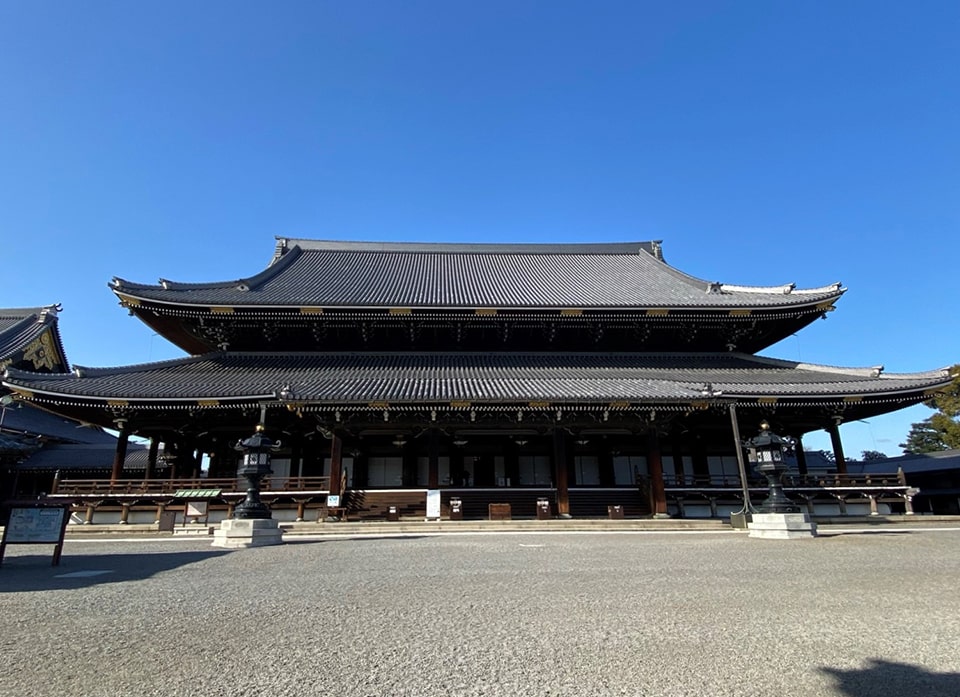 Higashi Hongan-ji (Important Cultural Property)
Here you will encounter many important cultural properties such as the Goeido-mon Gate, one of the world's largest wooden temple main gates.
A jinjo (morning service) also takes place here every morning from 7 a.m. which anyone can see free of charge.
10-minute walk from the hotel
Shichijo-agaru, Karasuma-dori, Shimogyo-ku, Kyoto
075-371-9210
Website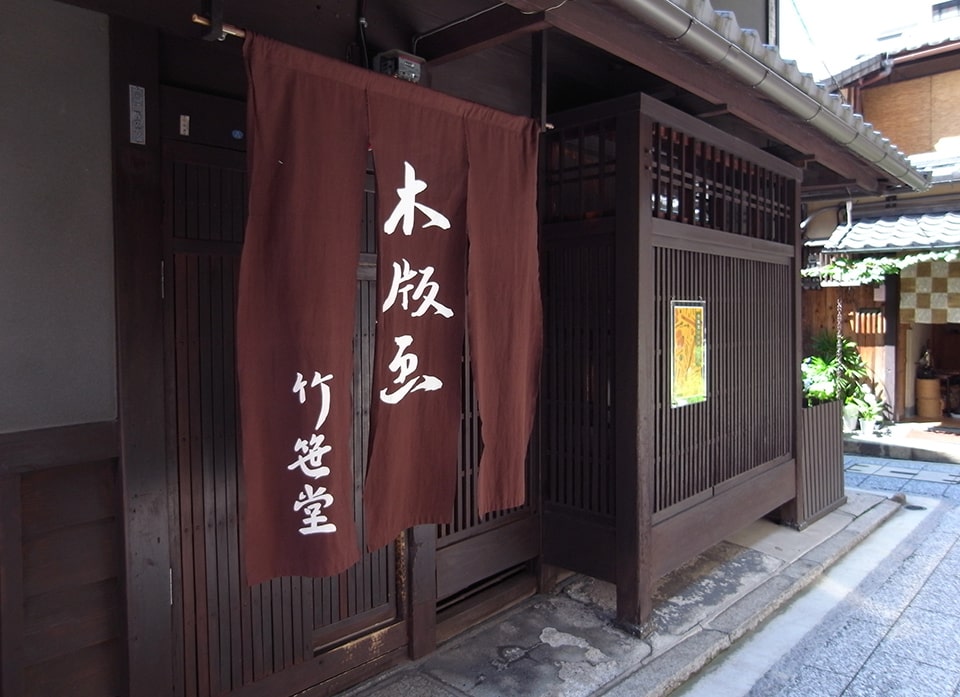 Takezasado
This is "Takezasado", the new products showroom run by Takenaka Mokuhan, which uses woodblock printing techniques passed down in Kyoto for 1,200 years. In addition to traditional hand-crafted woodblock prints; fabrics, accessories, and interior goods using designs made with woodblock prints also make popular souvenirs.
16-minute walk from the hote
Shinkamanza-cho 737, Nishinotoin Higashi-iru, Ayanokojidori Shimogyo-ku, Kyoto
075-353-8585
Website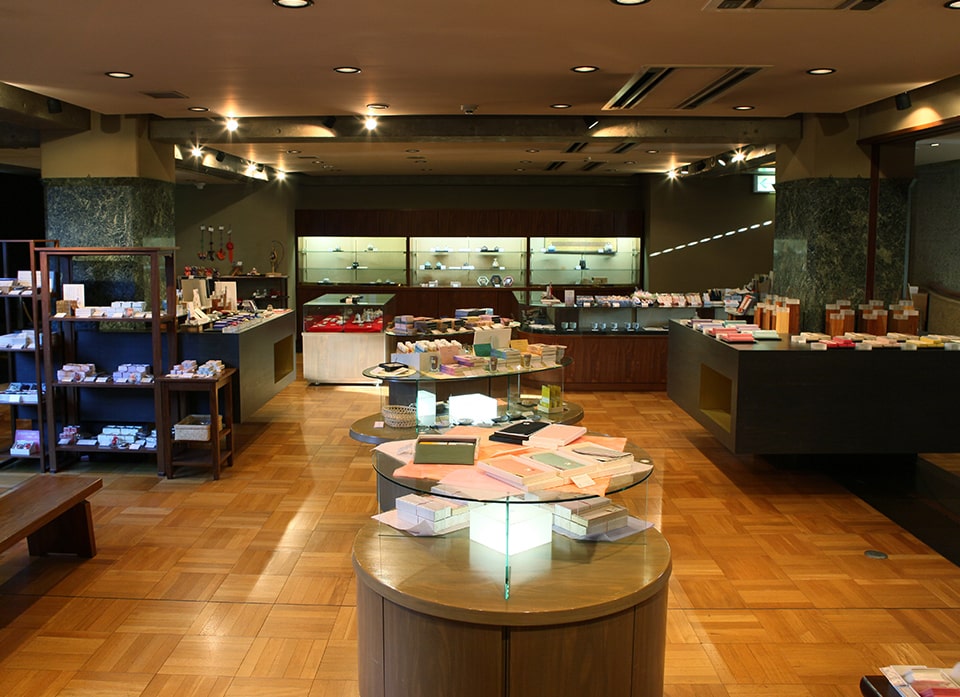 the Japan's oldest incense supplier ''Kungyokudo'' (Established in the third year of Bunroku era)
Japan's oldest incense store that sells incense made-to-order. While maintaining traditions, this store continues to make incense that fits neatly into modern living. Customers can also take part in "kodo", a traditional incense-smelling ceremony that has existed in Japan since ancient times.
3-minute walk from the hotel
Horikawa-dori Nishihonganji-mae, Shimogyo-ku, Kyoto
075-371-0162
Website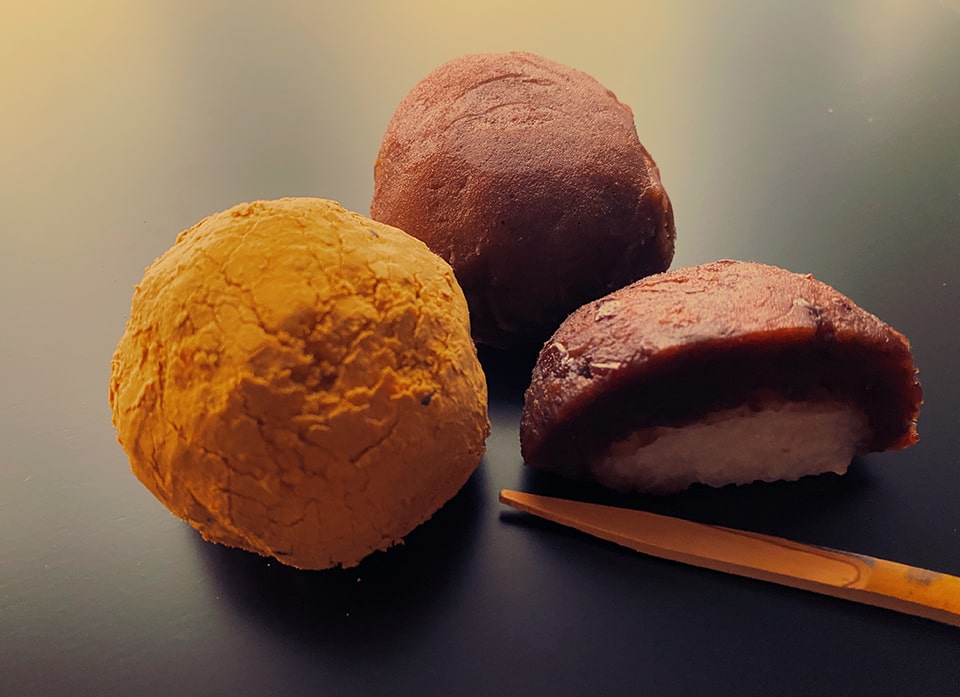 Famous "ohagi" sweet bean cake "Imanishiken"
Established in 1897, "Imanishiken" has been making "ohagi" sweet bean cake by the same hand-made technique for generations. Why not try out this Japanese sweet, which consists of a glutinous rice ball coated with sweetened red beans. Be sure to get there early because it is a popular store that only stays open until they run out.
9-minute walk from the hotel
Yokosuwan-cho 312, Shimogyo-ku, Kyoto
075-351-5825
Website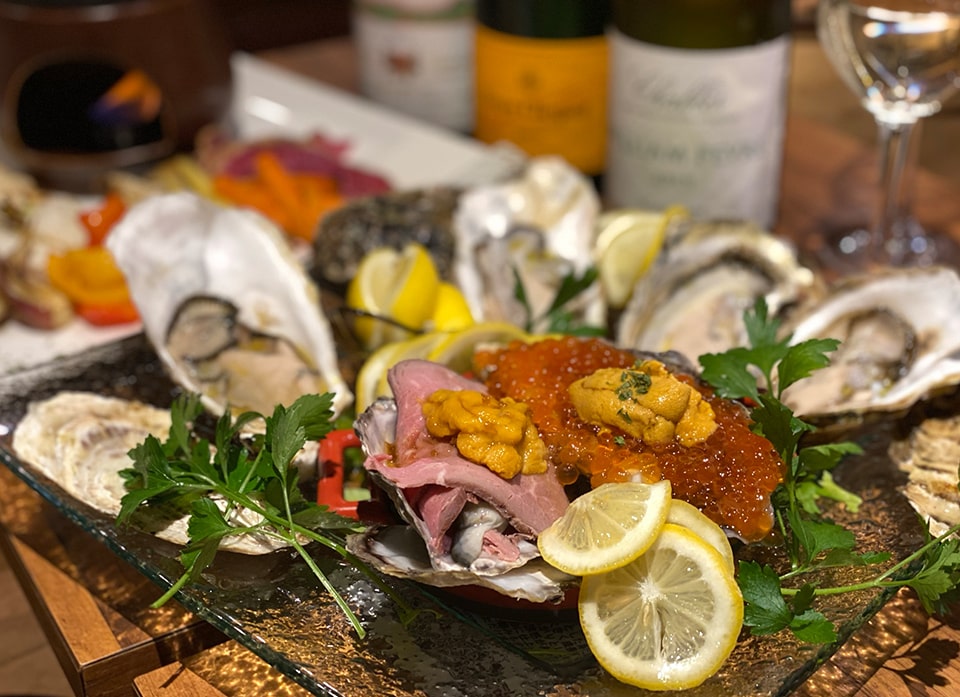 A tapas bar of shellfish and white wine "Kakimaru in Shichijo" <Privileges>
Kakimaru is a tapas bar close to the hotel that serves shellfish dishes and premium white wine at reasonable prices.
By buying in stock from different producing areas, delicious oyster dishes are on the menu throughout the year.
*If you mention hotel tou, you can get a 10% discount.
4-minute walk from the hotel
Fukumoto-cho 404-10, Shimogyo-ku, Kyoto
075-708-6938
Website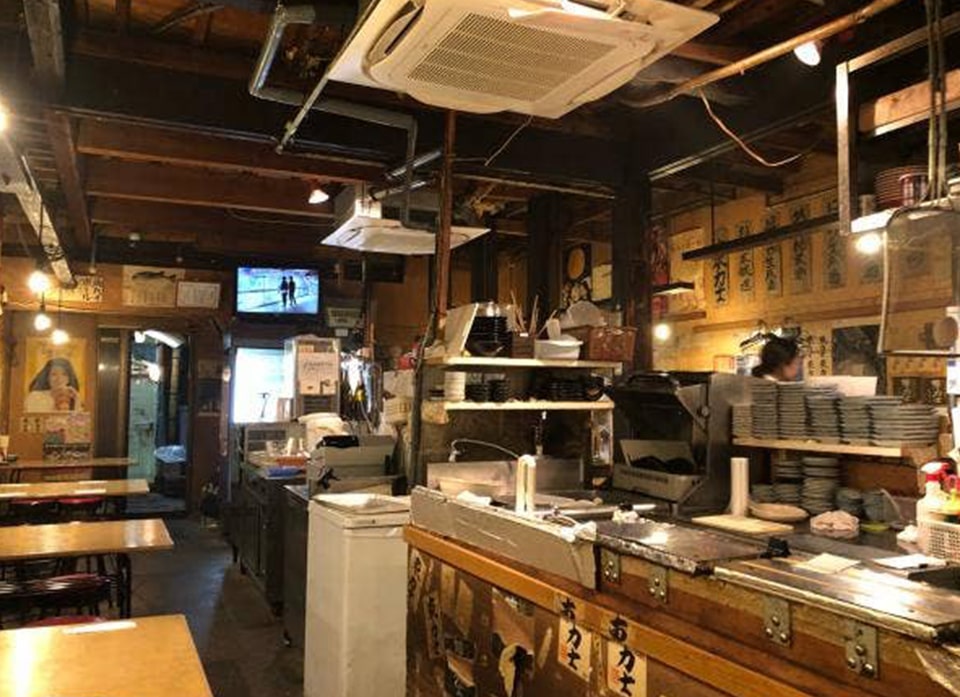 Seafood izakaya-bar "Newebisuno"
A pleasantly down-to-earth izakaya-bar. Enjoy popular Japanese dishes made mainly from fresh seafood bought in from the Kyoto central market. The friendly service provided by the energetic young staff is also popular with diners.
6-minute walk from the hotel
Ebisuno-cho 720, Shimogyo-ku, Kyoto
075-351-6636
Website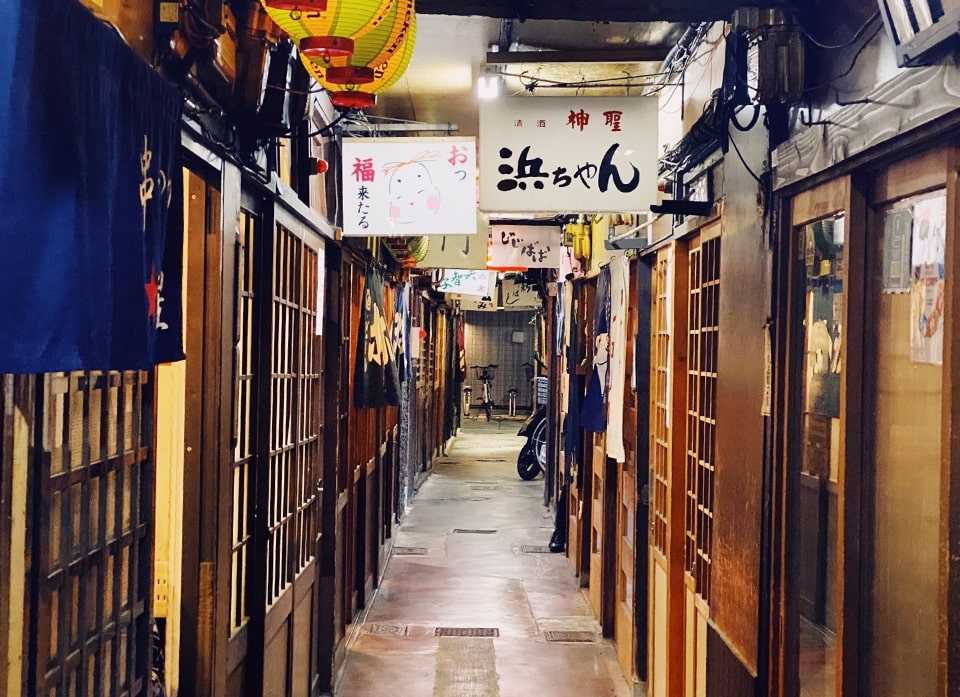 Nostalgic restaurant district "Rido-restaurant district"
A restaurant district with a nostalgic feel, it is located about 8 minutes on foot from the hotel after turning left at Nishinotoin Shichijo-dori street. It is lined mainly with tiny counter service-only restaurants including "kushikatsu" (deep-fried skewered meat and vegetables) restaurants, wine bars, and various other eateries serving Kyoto-made everyman's fare.
8-minute walk from the hotel
Higashisakai-cho 180, Karasuma Nishi-iru, Shichijodori Shimogyo-ku, Kyoto